Home Builder Incentives in Central Ohio
Posted by Sarah Davila on Thursday, November 2, 2023 at 3:35:31 PM
By Sarah Davila / November 2, 2023
Comment
Navigating Home Builder Incentives in Central Ohio: A Guide for Savvy Homebuyers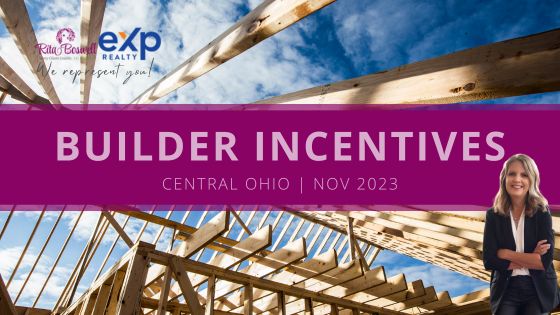 Central Ohio's real estate market is thriving! For savvy homebuyers, seasonal homebuilder incentives present a golden opportunity. Whether you're a first-time buyer or upgrading to your dream home, understanding these incentives is crucial. In this blog post, we'll explore the importance of having your own buyer's agent, delve into Central Ohio's enticing builder incentives, and reveal a valuable secret: winter is often the best time to strike gold in the world of new home purchases.
The Importance of Having Your Own Buyer's Agent
Choosing a new home is a significant decision. Having a dedicated advocate can make all the difference. Your buyer's agent is your personal guide through the intricacies of the home-buying process. Unlike the builder's agent, who represents the builder's interests, your buyer's agent works for you. They can help you get the best deal possible, including taking full advantage of builder incentives. From understanding the nuances of incentives to negotiating for you, having a buyer's agent by your side is invaluable.
Exploring Central Ohio's Home Builder Incentives
Central Ohio's home builder incentives are as diverse as the communities they serve. From rate buy-downs to upgrades, incentives enhance your new home experience. Some builders offer attractive financing options, while others provide complimentary upgrades or reduced pricing on move-in-ready models. With the right guidance, you can navigate these incentives to find the perfect match for your needs and budget.
Winter: The Best Time for Home Builder Incentives
Winter often brings more than just frosty weather; it brings the hottest deals in new home purchases. As the year comes to a close, builders are keen on meeting their annual sales targets. This motivation translates into a wealth of winter incentives, making it an ideal time for new home buyers. Whether it's reduced prices, upgraded features, or exclusive financing offers, winter incentives can significantly enhance your home buying experience.
Stay Informed and Seize the Winter Advantage
To stay ahead of the game, subscribe to our newsletter. We stay on top of the latest Central Ohio home builder incentives in the winter and send updates in our newsletter.
Additionally, if you're interested in a specific new home or incentive, don't hesitate to reach out. Our dedicated team is here to answer your questions, provide detailed information, and guide you through the process. Your dream home and the perfect winter incentive package could be just a click or a call away.
See The Latest Home Builder Incentives PDF

You May Also Like: Price Reduced New Construction in Central Ohio
Looking for a deal on a new home? Below you can browse new construction homes with price reductions across Central Ohio. If you like a listing below, select it to see all images and details, plus schedule a showing or ask a question right from our website.